follow Renaultoloog also on:
---
---
---
| | |
| --- | --- |
| | Thank you for your support! |
---
---
---
Renaultoloog en route
---
Road trip
| | | | | | |
| --- | --- | --- | --- | --- | --- |
| 2021 | 2023 | 2025 | 2027 | 2029 | 2031 |
Attention! The road trip only will take place if the Corona-measures allow it!
Sunday September 12th 2021

A

road trip for ALL Renault, Alpine, Saviem, Mack and Dacia cars, trucks, vans, tractors, campers etc. The 2021 trip 110 km long

will take place in a part of Limburg

,

Brabant

and a little bit of Belgium

with a stop at Tony Vos from Losange Magazine.

For the tractors we will create a special route.

Participation only by subscription via e-mail: contact@renaultoloog.nl

.

Costs are Ä20,- registration fee per vehicle.

De SmÍlentŰs

Patersstraat 22, 5977NM, Evertsoord, NL

PLEASE SUBSCRIBE NOW!
SUBSCRIPTION:

Please subscribe yourselves by sending an E-mail to: contact@renaultoloog.nl and mention:

Brand:

Type:

Name:

City:

Country:

---

After receiving payment (Ä20,-) we send to you your ticket, please take this ticket with you to the road trip, printed or on your cell-phone. Every participant becomes a startingtime, we kindly ask you to be present 15 minutes before your startingtime. The start times vary from 9.00h till 13.00h. By departure you will receive a printed route description. Due to the corona measures, please stay in the vehicle in Evertsoord. Please wear a face mask during the start procedure. Up to 125 vehicles can participate, FULL=FULL!

---

Payment details:

IBAN bank account number: NL92RABO 0157960668 BIC/SWIFT: RABONL2U or by PayPal (webmaster@renaultoloog.nl)


In name of: Stichting Renotoloog, Sevenum, Netherlands; subject: RER2021 name + city + country

---

The Renaultoloog en Route road trip will be held in every odd year, and wil cover an other area each year (see the petals on the image:).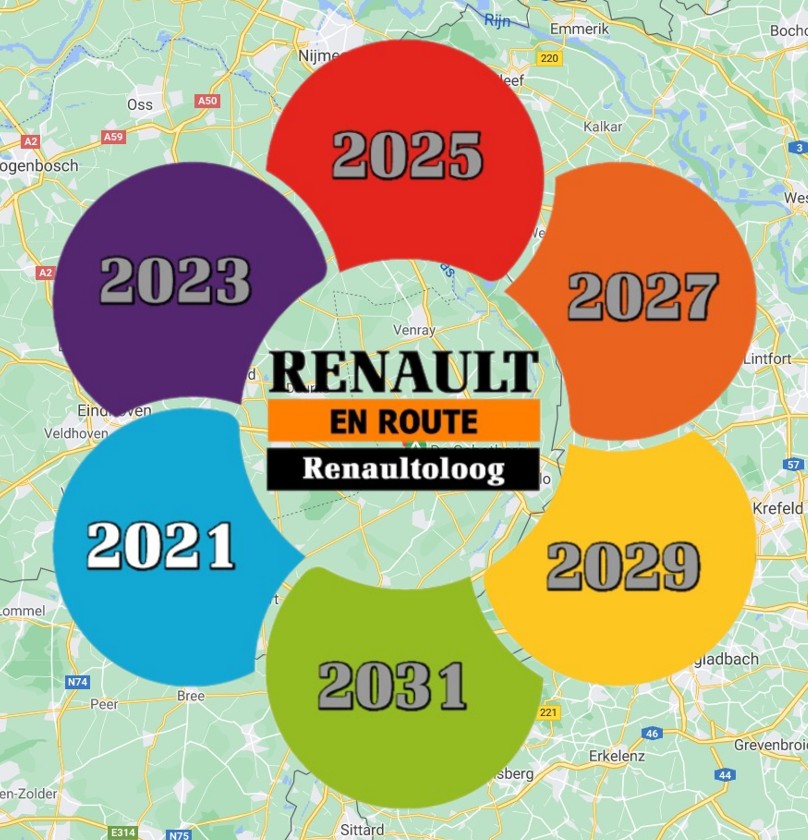 ---
Visit

Trips naar bijzondere mensen met bijzondere Renaults

---

2019, Agriculture excursie bij de familie Tavernier en de familie Labis, BelgiŽ
---

2017, Agriculture excursie Ferdinand Dijkstra, Rutten, NL
---