follow Renaultoloog also on:
---
---
---
| | |
| --- | --- |
| | Thank you for your support! |
---
---
1st Renaultoloog en Route road trip
| | |
| --- | --- |
| On sunday the 12th of September 2021 I organized for the first the Renaultoloog en Route road trip. The plan is to organize a road trip evey odd year, in the years there is no festival. Every trip wil each time cover a new area with always the same start and finish spot. After a stressfull period in 2020, with finally the canceling of the 5th Renauloloog festival because of the impossible corona rules, by the end of that year i found new energy to start organize something new. That is why I came with a road trip, that finally resulted in a succesfull corona-proof outside flow-through event! Because of the fact that is was a new kind of event and it took place on a new location in Evertsoord everything was new again. I learned a lot again and wrote down some improvements for the next time. The trip itselves came through Panningen, Heibloem, Leveroy, Ell, Swartbroek, Tungelroy, Stramproy, Bocholt (B), Lozen (B), Hamont (B), Budel, Gastel, Soerendonk, Leende, Heeze, Asten, Neerkant and Helenaveen. During the trip there was a break in Gastel at Renaultexpert and Renault admirer Tony Vos where he showed some of his beautifull Renault classics. I am very thankfull to everbody for his or her contribution to this event! Special thanks to my team of volunteers, Ger en Hay van Enckevort and Stichting gemeenschapshuis "de SmÍlentŰs" Evertsoord. Thanks to all participants, exhibitors and dealers. We had a nice mixture of old and new cars, vans, trucks and tractors! See you at the next edition! | |
---
---

The Renaultoloog en Route road trip will be held in every odd year, and wil cover an other area each year (see the petals on the image:).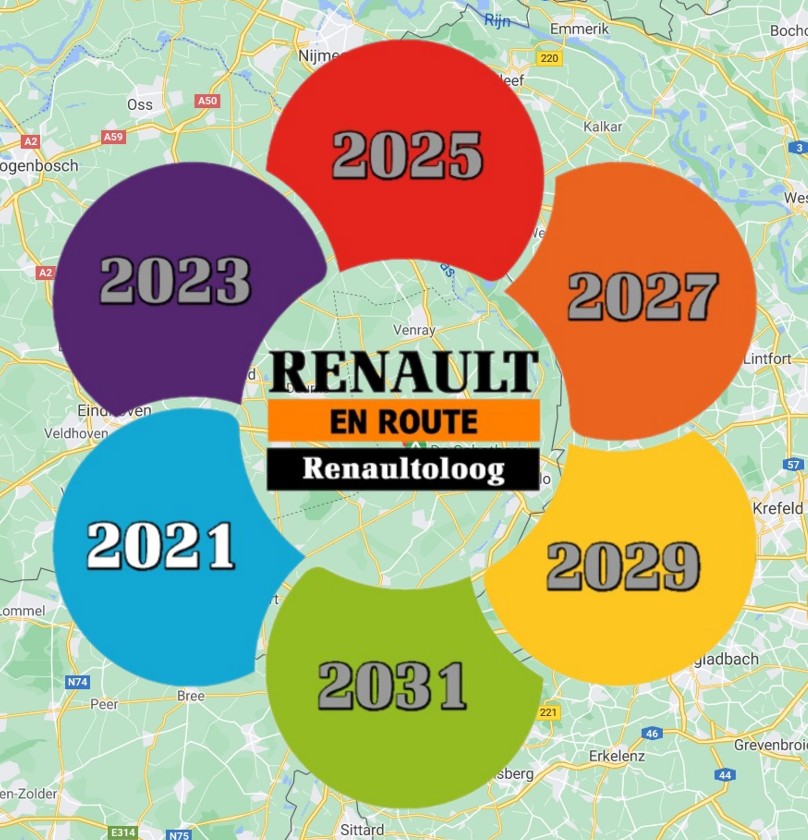 ---
Visit

Trips naar bijzondere mensen met bijzondere Renaults

---

2019, Agriculture excursie bij de familie Tavernier en de familie Labis, BelgiŽ
---

2017, Agriculture excursie Ferdinand Dijkstra, Rutten, NL
---