follow Renaultoloog also on:
---
---
| | |
| --- | --- |
| | Thank you for your support! |
---
---
---
---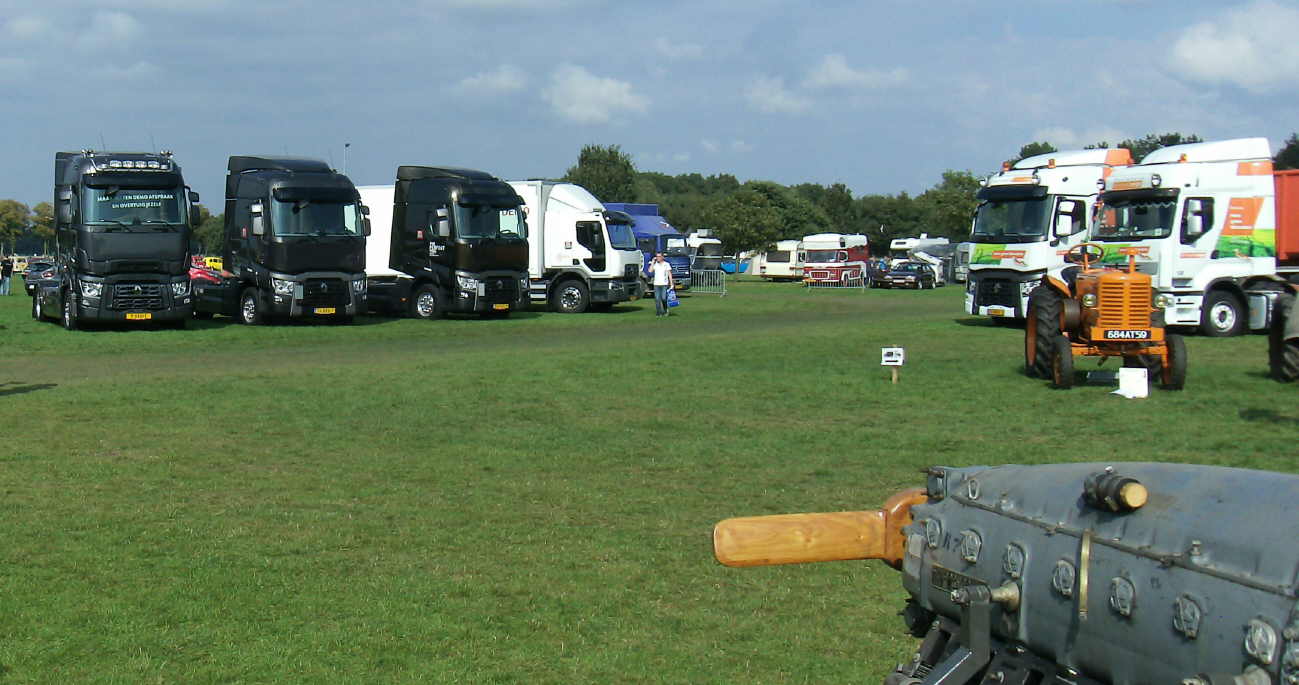 Everything from Renault together again! 13th & 14th of September 2014
---
Met de fijne herinneringen van 2012 nog vers in het geheugen brak daar de tijd aan van de nieuwe voorbereidingen. Dankzij de opgedane ervaring was het voor mij een stuk makkelijker om een 2e Renaultoloog Festival te orgiseren en kon ik meer tijd gaan besteden aan de verbetering van de organisatie en het regelen van fraaie publiekstrekkers. Met wederom een geweldig team van vrijwilligers hebbende, het werken met dezelfde leveranciers, en tevens weer de beschikking hebbende over dezelfde toplocatie en daar bovenop nog als extra wederom prachtig weer kan ik spreken van een zeer succesvol en positief afgesloten 2e Renaultoloog Festival. In totaal zijn er zo'n 440 verschillende Renaults voorbij gekomen tijdens dat weekend. Ook dit keer was er weer een unieke mix van Renault voertuigen die je nergens anders bij elkaar zult zien staan, met deelnemers uit 10 verschillende landen die dit evenement een echt internationale allure geven. Ook dit maal wil ik graag alle Renaultrijders, de clubs, de standhouders, Renault dealer Janssen, Renault dealer Strijbosch, de Nebim Groep, Renault Trucks Nederland, Hans Classic Cars, de Brandweer Horst aan de Maas, Dijkstra en Langeweg Rutten en niet te vergeten alle vrijwilligers bedanken voor het mogelijk maken van dit unieke evenement! Geniet van het onderstaande overzicht, kijk ook in het online fotoboek voor alle fotos en graag tot ziens in 2016! Groeten, Ed Lenders.
---
R4
45x
Alliance
1x
Safrane
4x
S110
1x
E30
1x
Ceres 70
1x
R4 F4/F6
13x
Alpine
17x
Scénic
7x
C210
1x
N70
2x
TZ nectra
1x
R5
34x
Avantime
6x
Sport Spider
3x
M230
1x
E72
1x
Ares
2x
R6
3x
Captur
3x
Type NN
2x
R340
1x
V72
1x
Endurance
1x
R8
7x
Clio
40x
Twingo
11x
Midlum
1x
D30
1x
Snecma
1x
R9
1x
Dauphine
5x
Twizy
1x
Premium
4x
R50
1x
1 cylinder
1x
R11
2x
Espace
3x
Vel Satis
2x
D 2.0
1x
R80
1x
R12
5x
Express
2x
Wind
1x
D wide
1x
Super 5D
1x
R15
4x
Floride/Caravelle
3x
Zoë
2x
T low
5x
R55
1x

R16
13
Fuego
3x
Goelette
3x
T high
1x
R56
1x
R17
13x
Juvaquatre Dauphinoise
2x
Estafette
11x
Mack
2x
R84
2x
R18
3x
Kangoo
5x
SG2
2x
TN6
1x
R301
1x
R19
7x
Koleos
1x
Trafic
6x
PE
2x
R361
1x
R20
3x
Laguna
7x
Master
10x
304E
1x
421M
1x
R21
6x
Mégane
27x
Mascott
1x
R3042
2x
461s
1x
R25
10x
Monoquatre
1x
B70
1x
R7022
1x
551s
1x
R30
2x
Primaquatre
1x
Fainéant
1x
R3046
1x
751s
1x
4CV
13x
Rodeo
5x
JK
1x
D22
1x
TX 75-32
1x
---
The participants
---
In and around the building
---
Special vehicles
| | |
| --- | --- |
| | |
| | |
| | |
| | |
| | |
| | |
| | |
---
Renault dealer Strijbosch Venray
---
Renault dealer Janssen Venlo
| | |
| --- | --- |
| | |
| | |
| | |
---
Nebim Groep & Renault Trucks Nederland
| | |
| --- | --- |
| | |
| | |
| | |
| | |
---
Clubs, parts & scale model trade
---
Close-ups
---
Camping
---
And furthermore...
---
Reports
Losange Magazine 31

Rhombus 3-2014

R4L magazine

Visit these sites for more photos and videos about the 2014 Renaultoloog Festival

https://www.facebook.com/RenaultCrewhighsociety?fref=photo

http://www.oldtimerweb.be/fotos-oldtimer-evenement/renaultoloog-festival-sevenum_4108.aspx

https://www.youtube.com/watch?v=s2ptOZiRtJU

https://www.youtube.com/watch?v=AGs9lSVpeCc

https://plus.google.com/photos/103388426205716591714/albums/6058981937977801313/6058983006845769314?pid=6058983006845769314&oid=103388426205716591714

http://www.renaultactueel.nl/2014/09/renaultoloog-2014-is-begonnen/

https://www.flickr.com/photos/91728279@N06/15063405798/in/photostream/

http://renault-freunde-ruhrgebiet.de/renaultoloog-2014/

http://www.renaultactueel.nl/2014/09/nagenieten-renaultoloog-festival-2014/?fb_action_ids=381905571961056&fb_action_types=og.likes

https://www.facebook.com/photo.php?fbid=966092696741642&set=a.965441983473380.1073741891.100000227619845&type=1&theater

https://www.facebook.com/hilde.sourbron/media_set?set=a.10204220595348911.1073741857.1648180955&type=1

http://www.renaultinminiatuur.nl/foto-album/renault-foto-album/garage-renault-in-miniatuur/concours-d-elegance/renaultoloog-festival/

http://www.mijnalbum.nl/Album=LSVSGMVP#GUZVQMNF

https://plus.google.com/photos/117939719467313406549/albums/6059267064967837985/6059903568070050818?pid=6059903568070050818&oid=117939719467313406549&authkey=CNaiwbm55tS4JA
---
Check the online photo book for ALL pictures: www.renaultoloogfestival.mijnalbums.nl
---